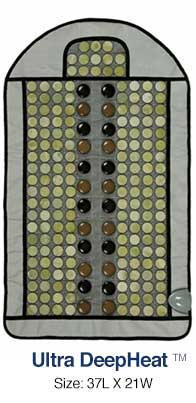 Send Me Ultra DeepHeat™
for Maximum Pain Relief!

YES! I want to experience 20 times more heat and healing than traditional heating pads. I understand far infrared rays from DeepHeat™ penetrate up to 2 inches below the surface of my skin, whereas traditional heating pads warm just the top 1/10th of my inch of my skin.
Send me the Ultra (nicknamed, "The Back Surgeon's Worst Enemy") for neck, back, and spine relief. All DeepHeat™ pads are 110V and 250V compatible (so I can use them at home or abroad)... do not emit 'harmful' and 'electromagnetic' fields... and can also be thrown in the freezer and used as a cool wrap.