However, if the major source of your pain is in any JOINT or MAJOR MUSCLE AREA...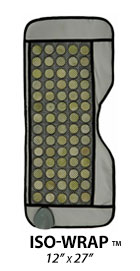 If your HANDS hurt so much you can't open a jar
If ELBOW pain stops you from picking anything up
If your SHOULDER hurts so much you struggle just to put on a t-shirt
If your NECK is sore
If your KNEES creak and crack
If your FEET feel like you are walking on pins and needles
If your ARMS or LEGS need relief
Or if CERTAIN parts of your back need more relief than others (like just your lower back)
...then the Iso-Wrap is right for you.

5 Great Reasons To Try DeepHeat™ Today...
1. 90 - Day 100% Money Back Guarantee - You must be absolutely delighted with your DeepHeat™ or I Insist You Return it Within 90-Days for a Full Refund of Your Purchase Price (Excluding Shipping Fees).
2. Highest Quality and Safety - Cheap imitators have a serious FIRE risk (heat causes protective plastic to melt and wires to spark). Our pad is constructed with multiple safety precautions, and as such, is GUARANTEED to last longer than other brands. Even so, you are covered by a...
3. Two-Year Limited Warranty - On materials and workmanship. If anything happens to your DeepHeat within the next 2 years you won't spend a dime on repairs.
4. Personalized Support from Certified Back Health Specialists - We are the ONLY company offering these far infrared heating pads along with personalized support from our certified back health specialists. If you have any questions at all, just ask and we'll be happy to help you. This is a real $97 value by itself.
5. Feel Relief in the First 10 Minutes! - Thanks to far infrared energy (that delivers 20 times MORE healing power than conventional heating pads) discovered by NASA scientists.

DeepHeat™ Heating Pad FAQ's
FEATURES:
Natural Jade Stones for maximum heat transfer and penetration
Travel Carrying Case
TWO YEAR Limited Manufacturer's Warranty
Far Infrared heat penetrates 2-3 inches
Ready to use in just minutes
Digital controller allows for exact temperatures
Auto shut-off
BENEFITS:
Relieves Pain
Takes away arthritic pain
Promotes relaxation
Increases circulation
Improved range of motion
PRODUCT SPECIFICATIONS:
| Model | Dimensions | Weight | Volts | Watts | Plug Type |
| --- | --- | --- | --- | --- | --- |
| THE ISO-WRAP | 12" x 27" | 2lbs | 110v | 75W | 3-Prong, type-B US/Canada Standards |
| THE ULTRA BACK AND NECK | 21" x 37" | 8lbs | 110v | 150W | 3-Prong, type-B US/Canada Standards |
| THE FULL BODY SLEEPER | 24" x 71" | 15lbs | 110v | 300W | 3-Prong, type-B US/Canada Standards |