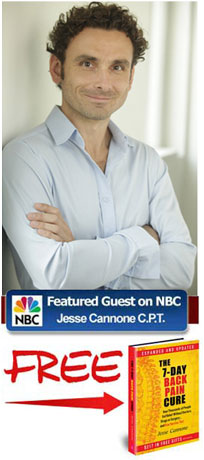 Dear friend,
Below... you'll discover how you can reserve your FREE copy of my latest book, "The 7 Day Back Pain Cure - SECOND edition".
But before I show you how to get your FREE copy, I'd like to share with you...
The Little-Known Story Of How I
Reluctantly Became A Back Pain "Superhero"...
Several years ago, I met a very attractive woman at the gym where I worked as a personal trainer. As every guy can tell you, sometimes we do stupid things to impress a girl, especially the woman of our dreams. For me, this was one of those times.
I asked Maria out on a date and held my breath, awaiting her answer.
Much to my relief, she smiled and said she was interested. Yes! I gave myself mental high fives while pretending, of course, to be a cool customer.
Maria asked if I wanted to go running with her.
Running?
Oh, yeah, definitely. I love to run. But Maria wasn't just any runner. Maria enjoyed marathons, all 26-plus miles of them. She wondered if I wanted to join her on one of her training workouts.
I smiled and agreed. Maria smiled back, and then left. It was official. We had a date.
I Felt Terrific, Except For One Small Problem...
I wasn't actually a runner.
True, I was a personal trainer and a bodybuilder, but I was more into lifting weights than running. I'd never really run more than a mile or two. Still, I figured I could keep up - or rather, I was going to make darn sure I could.
Thankfully, my first run with Maria was great.
We hit it off and I handled the four-mile jaunt without a problem. Since I kept up so well, we scheduled another run - this time, for 8 miles! Our budding romance bloomed and my running shoes got a nice workout.
Then Came Our Third Run...
Since I'd managed eight miles, Maria decided to take me for 12. It wasn't easy, but I did finish. After all, my fragile male ego had to finish, right? Tongue hanging out, I succeeded, and thought everything would be fine. Maria and I then went to the local grocery store.
We were having a great conversation when suddenly...
My Knee Buckled And I Fell To The Floor!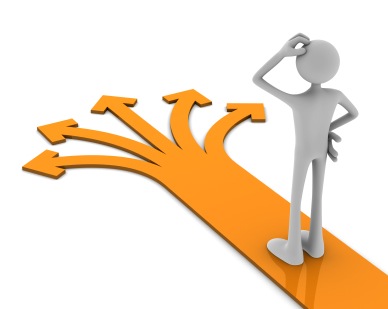 When I tried to get up, I fell back down again.
How embarrassing.
Here I was, a 32-year-old bodybuilder, lying on the ground in pain, unable to walk, and failing miserably to impress this attractive woman.
Several weeks went by, but my pain didn't get any better. Assuming I'd injured it, I visited multiple doctors, chiropractors, and orthopedic surgeons.
What was going on?
Even after multiple cortisone shots and tons of painkillers, the pain was still there. The orthopedic surgeon suggested surgery.
I'd tried everything and still couldn't walk.
Desperate, I Scheduled The Surgery...
Meanwhile, as part of an effort to expand my skills as a personal trainer, I was attending a seminar on fitness rehabilitation - a topic that now was even more relevant to my life. One of the presenters was a pain-relief expert.
After his talk, I spoke with him about my situation.
He examined me, observing how I stood and how I walked. When he finished, he looked at me and said, "You don't have a knee problem at all."
What?
Obviously, this comment surprised me.
But since the surgery was only a few days away, I asked him to continue.
What he said next changed my life.
"Here, Let Me Show You A Stretch Which Evens Out The Difference In Muscle Flexibility Between The Left And Right Sides Of Your Body..."
I did what he suggested and within a few minutes felt a little better. I did that same stretch a few times every day for the next few days.
Much to my surprise, my pain was 80 percent gone within three days and 100 percent gone within seven days.
Needless to say, I canceled my surgery!
I was able to restore the balance in my muscles and body frame, eliminate my pain quickly, and go on to live pain free. I became fascinated with how such a simple solution could be so effective.
He mentioned to me that this simple technique works for eliminating ANY type of pain in your joints, ligaments and muscles. In other words, it doesn't only work for your knees... it also works for your back... neck... arms... shoulders... and many other areas of your body.
I Was Mad None Of My Doctors Told Me About This Natural, Do-It-Yourself Way To Become Pain Free!
I began telling my friends and family about what had happened to me.
They wanted to know how they could stop pain like I had. But instead of trying to stop their knee pain, the vast majority of the people I knew were suffering from BACK pain.
Despite my desire to help them, I couldn't point to any doctors, physical therapists, clinics, chiropractors, books, videos, or audio tapes that talked about this common sense explanation of what causes back pain and how to get rid of it.
The more I shared my story, the more people wanted to learn about the solution I'd found.
I felt angry and frustrated that this information wasn't being taught in medical schools or offered as an option ahead of drugs, shots, surgery, and other therapies that didn't take this imbalanced-body phenomenon into account.
I considered trying to teach this form of self-treatment myself. But I'm not a medical doctor, orthopedic surgeon, chiropractor, or physical therapist (though I was getting close, as my personal-training practice had started to lean toward clients with back pain and injuries).
Really, Who Was Going To Take Me Seriously?
So, I did nothing and waited for the medical and chiropractic communities to catch up. I waited and waited and waited.
Years went by, but nothing changed.
My friends, family, and colleagues continued to get well-intentioned - but often incorrect - advice from people in positions of authority.
Finally, unable to continue watching people suffer needlessly, I got fed up. I decided to forget my insecurities about not being a medical doctor and try to help as many other back-pain sufferers as I could.
Since that day, I've sold nearly 200,000 copies of my breakthrough book "The 7 Day Back Pain Cure".
Since releasing that book... we've received countless emails, phone calls and letters from people who've said "your book is a life and back saver!".
Yet no book is ever perfect, so after countless hours of improving The 7 Day Back Pain Cure I'm proud to announce...
The 7 Day Back Pain Cure - SECOND Edition!
Here's what's NEW inside the second edition...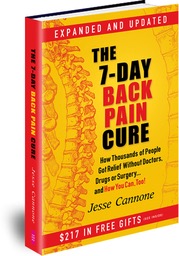 Over 100 brand new, content-packed pages

5 new chapters covering the most deadly back pain myths... sleeping and traveling without pain... new treatment alternatives you've never heard of before... and how to get rid of neck pain!

Updates and new tips added to existing chapters revealing our latest breakthroughs in back pain

Dozens of new resources & treatment options

$217 worth of FREE back pain relief videos (page 259)

Over $116.94 worth of NEW, FREE bonus gifts

... much, much more!
Why Come Out With A Second Version Of
The 7 Day Back Pain Cure?
After selling over 150,000 copies of the first edition of the 7 Day Back Pain Cure, my team and I sat down to take a good hard look at our progress.
And we decided that even though we've already helped nearly 200,000 people around the world get rid of their back pain for good...
... that wasn't good enough!
At that very meeting, we decided we wanted to shoot for the stars. We wanted to push ourselves to hit a goal so amazing, we had a hard time at first believing we could do it.
What was that goal?
We Want To Give Away 1 MILLION Copies Of My Breakthrough Book... 100% FREE!
To do that, I knew the second version had to be nothing short of a miracle. The type of book people read, re-read, and then set on their desk as a desktop reference. The type of book people take to their doctors after getting relief and saying "Doc, you couldn't help me... but this book did!".
That's why I spent the last 12 months pouring through ALL my notes I've picked up over the past few years...
... having private conversations with the top pain researchers in the country...
... spent tens of thousands of dollars doing my own underground research...
... and spent literally HUNDREDS of hours digging through research studies and medical documents...
... to come up with a book so filled with actionable content, you'll be shocked to know you can get it FREE.
Here's a SAMPLE of what you'll receive... from both the information that was in the first edition as well as the NEW information added to the second edition.
The 3 hidden causes of all back pain... Page 14

The 7 mistakes that keep you suffering... Page 35

Why most back pain treatments fail... Page 24

How to prevent pain flare-ups in the future... Page 148

My unique "7-Day-Action Plans" Page 89

My 6 easy-to-implement lifestyles changes you can make TODAY... and watch your back pain begin to disappear just a few days later! (Chapter 10)

What treatment(s) is right for your specific pain condition! Page 77

How to easily and quickly eliminate your pain caused from sitting all day! This quick-n-easy fix takes just seconds per day and for many people can relieve back pain nearly instantly! (Chapter 4)
The 6 big myths about back pain and why they're causing you MORE pain!

The shocking TRUTH About Being Overweight

7 sneaky tricks to get a deep, peaceful nights sleep...

5 simple tips for traveling pain-free (even if you have children!)

A little-known yet miraculous treatment which uses oxygen to provide a 75% success rate

The NEW alternative to back pain surgery which is less invasive... safer... has fewer side effects... and provides permanent relief!

My 8-step plan for both short term and long term neck pain relief

... and much, much more!
7 Reasons Why You MUST Read The 7 Day Back Pain Cure...
You'll discover several highly effective treatments that you likely have never heard about and you'll never hear about these from your doctor...
Revealed: The real reason your doctors do NOT have YOUR best interests at heart (Warning: This "hush-hush" doctors-only secret is something your doctor will not (and can't) ever admit to!) Page 43
I've added over 100 jam-packed pages of USEFUL content that you can read, apply the advice and get fast relief. No fluff. PLUS you'll get access to over $217 in FREE videos which explain the concepts even further!
I'll reveal how to easily and quickly eliminate the problem caused by sitting all day - This quick-n-easy fix takes just seconds per day and for many people can relieve back pain nearly instantly! (Chapter 4)
You get my "7-Day Action Plans" which tell you exactly what you need to do, in step-by-step order based on the condition you are dealing with...
You'll get 6 easy-to-implement lifestyle changes you can make TODAY - Start these the day you read the book and you can begin watching your back pain disappear just a few days later! (Chapter 10)
Nearly 200,000 people from over 128 countries in the world have already found relief after reading the first edition and I've spent the past 12 months making this NEW edition even more powerful...
Thousands Are Now Pain Free...
Will You Join Them?
Relieved my back pain!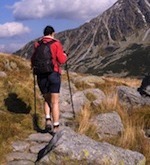 "I wish that I had found this book earlier. It has helped me more than the pain management doctor.
I really did not want to manage the pain - I wanted rid of it and wanted to get back to my normal activities.
The exercises have helped greatly.
I am pleased with my progress and continue to exercise, watch what I eat and take NO pain medicines.
Kathryn A. Kindel
A must read book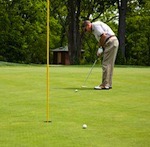 "I first had back pains in 2000. It was clear what the trigger point was. Yet I self-limited to physiotherapy which only reduces the pain but does not resolve the root cause of the problem. For 11 years I have been coming and going. Now thanks to Jesse I know what to do.
I have a clear path to success. I said path, not pathology because muscle balanced therapy is ahead of me to live the life of my dreams"
Jorge Zuazola
7-DAY BACK PAIN CURE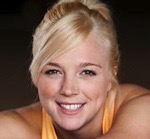 I thought I had read everything on back pain. Not so.
This book has so much information on every thing to do with back problems, including what to do immediately for pain.
Most important to my mind are the clues on finding the causes and what to do about them.
Anyone with any kind of pain in the back would do themselves a huge favor by reading this book."
F. Peck, BC Canada
Finally!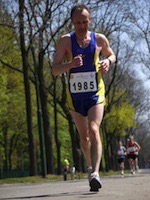 "I was thrilled to read a book that actually gave honest and useable info. I had been to two doctors/ specialists and had a battery of tests run only to be told there was no answer to my recent back issues and that it may be stress. I knew there was more to it.
Within a week of reading the book I am pain and incident free. I will use the info and special stretches and exercises for years to come."
L. Pai
Order Today And Get These FREE
Instantly Downloadable Bonus Gifts
BONUS #1:

Formerly Illegal Treatment Reverses Pain in Minutes - mp3 Audio
($19.95 value)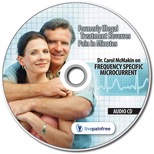 BONUS #2:

4 Things Cause Sciatica mp3 Audio
($29 value)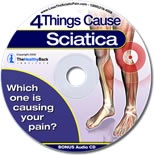 BONUS #3:

"How to Heal a Herniated Disc" mp3 Audio
($19 value)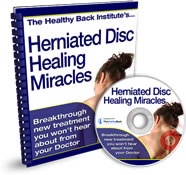 Get Your FREE Copy Now!
(Just Pay Shipping & Handling)
255,594 Copies Have Already
Been Given Away Absolutely FREE!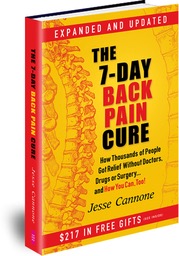 Only

431

FREE Copies Left